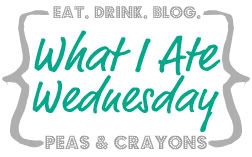 The blog
Peas and Crayons
hosts a What I ate Wednesday party so I thought that I might just join in. On a Wednesday I will post what I ate on Tuesday and then on Thursday I will try to post one of the recipes from my day.
So here goes....
One day a week I try to have a day where I don't eat foods with any added sugar or I eat as little of these as possible.
I started off my day with a hot water and lemon. I have just started doing this and I find it a good way to wake up. This was followed by my amazing
Chocolate Brownie Baked Oats
! Now you may think that this breakfast would break the no sugar rule but in reality the banana and dates are used to sweeten it.
After a 2 hour lecture that dragged on a bit and an assignment that needed worked on I was in need of a coffee! This coffee was had with a pizza pinwheel scone that I made on Monday.
For lunch I had some leftover salads from a BBQ that we had on Saturday. This was a combination of Fruity Coleslaw, Roast Beet and Feta Salad and a Banana and Kumara Salad. Yum! This was finished off with a small peanut butter sandwich, a nectarine and a green tea.
Around 4 o'clock I got a bit peckish so had an apple and a small handful of doritos.
Now we come to what was my favourite meal today (yes even better than the brownie oats) a Chicken Mole. This will be the recipe that I share with you tomorrow. I also made some small tortillas to eat with it
So that was my day of eats. My only wee sugar cheat was 2 small pieces of 80% cocoa chocolate so I think that that was pretty good really.